TVS
My vacation pictures from Alaska

Chuck Grant
I am Rustyoldman from [TopCoder].com
but I use fx4m as my username in most places



I used to have an '82 Trans Am. Nice car, probably a little too redneck for me though.



Here is the greatest thing ever invented.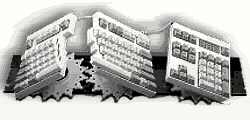 The Comfort Keyboard System
It saved my career.
I got my first one about 1993.
I have several now and use them every day.
I can't work or play without one.
And I do play on the computer, here is my current TopCoder trading card. Sorry that it is in Flash, that wasn't my call.
And here is my rating history plot.
Oh, and by the way, I wrote the code that generates these plots for TopCoder. The previous graph was soooo boring it hurt my eyes. So just for the preservation of TopCoding eyes everywhere, I put together something that was a little more fun to view.
I used to have a nice Easter egg in the code which made my plot a little different than everybody else's plot. But that got expunged in the name of professionalism, as seen by TopCoder. They had better not find the remaining Easter eggs eh? [Update: they have replaced my code with a Flash thing, but you can still access my code through the old URLs like http://www.topcoder.com/graph?c=rating_history_graph&cr=282718&width=800&height=600]
From the shape of this plot one might argue that I will never learn. And I suppose you could still poke an eye out on all the sharp points in my history, or at least cut your fingers by running your hand over the top.
Here is my former TopCoding setup (even before the one pictured on the TC Channel) in its temporary location. Four LCDs on the main machine (G5) that runs the applet and displays what is happening in all rooms. Two screens on the secondary machine (G4) which is used for looking up stuff in the Java API, AIMing the admins, running MPSQAS during the contest and logging in to the applet as Rustyoldman when the main machine is logged in as writer. Of course that only happens when I am the writer for the current contest.

I have three video cards in the G5 with two outputs each, and I have one more empty slot on the bus, so I could pretty easily add four more LCDs if I thought that would be helpful, or sufficiently cool.

The G4 has been replaced with a Linux box.

To email me, use the domain name of this site as my user name (by the way, what do those four characters mean?) and unscramble this well known ISP "Netcast.com" to form the hostname of my email address. Hint: it rhymes with Tomcast.Wet.
Here is a shot of door prize laptop I won at TopCoder. I sold it to another TopCoder for $1000 after a period of taking bids.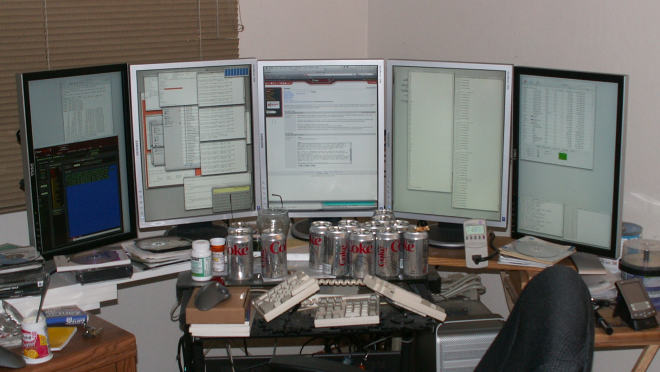 Here is a more recent picture of my TopCoding workstation. There is an eight-core Power Mac driving five monitors in portrait mode. The portrait mode orientation is really nice for getting lots of lines of code visible at one time.